This statue was erected 1998 to those seamen, who were killed at battle of Svenksund 1790.


The Second Battle of Svensksund (fi: Ruotsinsalmi, ru: Rochensalm) was a naval engagement fought in the Gulf of Finland in the Baltic Sea, outside the present day city of Kotka, on 9-10 July 1790 during the Russo-Swedish War (1788-1790) in which Swedish naval forces defeated the Russian coastal fleet. Via Wikipedia - read more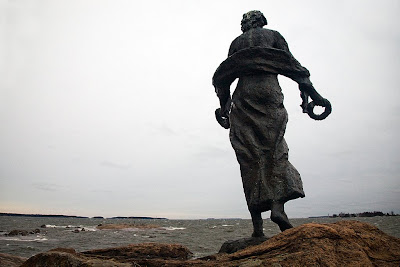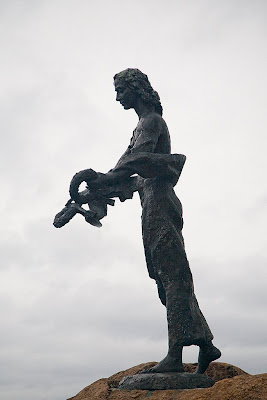 Tämä Kuusisen tien päässä sijaitseva, 1998 pystytetty patsas on omistettu Ruotsinsalmen taistelussa (1790) kuolleiden merimiesten muistoksi.
Ruotsinsalmen meritaistelu käytiin silloisen Kotkan edustalla 9.-10. heinäkuuta 1790.
Ruotsinsalmen toinen meritaistelu on suurimpia koskaan käytyjä meritaisteluita. Se käytiin osana Kustaa III:n sotaa Ruotsin ja Venäjän laivastojen välillä Kotkansaaren, Mussalon ja Kuutsalon saarten välisellä alueella nykyisessä Kotkassa. Vain vuotta aiemmin käytiin samalla paikalla Ruotsinsalmen I meritaistelu, jonka Ruotsi hävisi. Toinen taistelu päättyi Carl Olof Cronstedtin johdolla Ruotsin laivaston ylivoimaiseen ja Ruotsin historian suurimpaan merivoittoon. Voiton ansiosta Ruotsi sai paremmat lähtökohdat Värälän rauhanneuvotteluihin.

Taistelun jälkeen venäläiset rakensivat Kymijoen suulle Ruotsinsalmen - Kyminlinnan kaksoislinnoituksen, ja varsinkin Kotkansaarelle kasvoi asutusta. Samalla paikalla on nyt Kotkan kaupungin keskusta. Via Wikipedia

Lisää tietoa 1700-luvun Kotkasta löytyy myös
Finnica Kymenlaaksosta
.