Hovinsaari papermill was the other papermill at Kotka. This papermill was owned by Haarla (1935-1976)and Yhtyneet Paperitehtaat (1976-). It was closed 1999. Then there was working 33 people.

This building was managers home. Later here was some offices. Now it´s empty and left to it´s fate.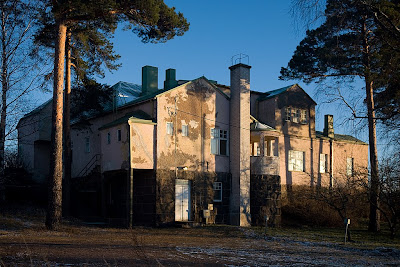 Kuvia saa klik-klik-klikattua!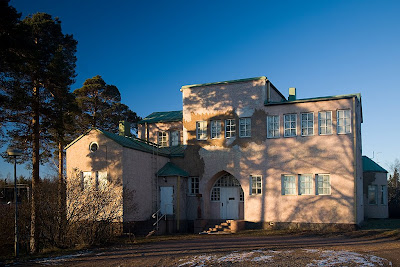 Hovinsaaren paperitehdas (Walkisoft Oy, Kotkan paperitehdas) oli toinen Kotkan paperitehtaista. Tehdas kuului Haarla-yhtiöön 1935-1976. Yhtyneet Paperitehtaat Oy osti Haarlan tehtaat vuonna 1976. UPM-Kymmene Oyj lopetti tehtaan vuonna 1999 vanhentuneena. Tehtaalla oli viimeisenä toimintavuonna 33 työntekijää (via Wikipedia).

Kuvissa oleva rakennus on aina kiehtonut minua. Sen monipolvisuus, parvekkeet, erkkerit, massiivinen "kartanomainen" pihatie ja sisäänkäynnit portaineen...

Se on kaunis, vaikkakin jo nykyisin rappeutunut ja jätetty oman onnensa nojaan. Pelkäänpä, että jos ei ihmeitä tapahdu, niin tämäkin kaunis rakennus on kohta dokumenttien ja muistikuvien varassa.

Rakennus on ollut aikoinaan tehtaanjohtajan asunto, myöhemmin siinä oli toimistotiloja.