This is Stora Enso paper mill in the center of Kotka. Local people are afraid about the future, because the owner is going to sell off the whole factory. What if nobody want´s to buy it?

We have read news about Summa paper mill (it´s about 20 km from Kotka city centre and only few kilometres from cityborder). It´s gonna be closed. Is the same destiny waiting for Kotka too?

I think there is many people in Kotka who don´t like Stora Enso today...

More:


Yle News
Paper Industry News from PaperAge
PrintWeek.com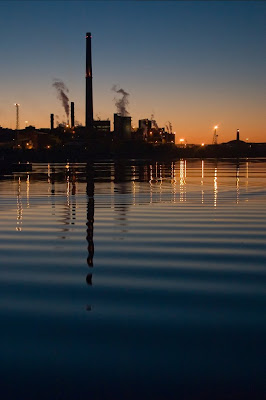 Viikon vanhoja uutisia kuvan kera... Kotkan alueella (aiheestakin) puhututtaa Stora enson kaavailut paperitehtaittensa suhteen. Summa sai niitin arkkuunsa, kotkalaisille elätellään vielä viimeisiä toivonrippeitä kaupungin keskustassa sijaitsevan tehtaan työpaikkojen suhteen... Mitenhän tässä hässäkässä oikeastaan loppujen lopuksi käy? Ei ainakaan pienen työntekijän kannalta hyvin, se on selvää.
Kahden tehtaan alasajo / elinpohjan horjuttaminen kahdenkymmenen kilometrin sisällä on iso juttu. Liian iso juttu tälle kulmalle. Hamina on jo ilmoittanut nostavansa veroprosenttiaan, saa nähdä, miten Kotkassa loppujen lopuksi toimitaan, kun Enson kohtalo jossain vaiheessa lopulta selviää.