Kotkan Kerttu, our boatcafeteria. It´s been here "allways" and hopefully it will be in future too. It´s old barge, which was used at Kotka harbour to load ships. Traditonally it´s place, where fishermen meet one another.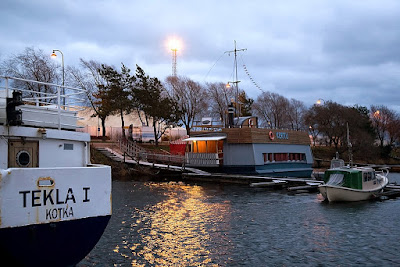 Kotkan Kerttu - aina ollut ja toivottavasti aina pysyvä kotkalainen "nähtävyys. Kerttu on ainoa uiva kahvilamme, Sapokassa, kotkalaisessa kesäkeskuksessa.

Se on ollut alkujaan proomu, josta lastattiin sataman edessä redillä olleita laivoja. Kotkalaissyntyinen, sittemmin elämänsä aikana haminalaistunut lauluntekijä ja -esiintyjä Veikko Lavikin on tehnyt Kotkan Kertusta laulun. Kotkan Kerttu vahvisti hänen paikkansa 50-luvulla suosittujen keikkamuusikoiden joukossa. Levy möi peräti 26000 kappaletta (myöhemmin jopa 10000 lisää) keikkuen listojen kärjessä alkuvuodesta 1952.