Oldest port of Kotka, "kantasatama". The City Terminal has gained a new appearance. The City Terminal is divided into two parts, a cultural harbour and a commercial harbour.

The commercial harbour encompasses cargo and passenger traffic. Cargo traffic continues to consist of Finnish pulp, paper and sawn goods. Conventional port activities continue on the Itälaituri quay of the City Terminal. Passenger traffic is served by the cruiser company Kristina Cruises Oy from the Kalaranta A-terminal, and combined cargo and passenger traffic are served by Narva Line Oü's ropax vessel Vironia from the B-terminal. The Vironia sails between Kotka and Sillamäe in Eastern Estonia.

The execution of the cultural harbour plan has been launched. The goal is to make the City Terminal a round-the-year pleasant and modifiable cultural environment with services for the people of Kotka. The focal part of the cultural harbour is the Maritime Centre Vellamo. It will house the Maritime Museum of Finland and the Provincial Museum of Kymenlaakso, both to be reopened in 2008. The cultural harbour will also cover the existing museum ships, museum cranes, and the Wooden Boat Centre, all located in the same area. The plans for the area also include other activities.

Via port of Kotka

Former article about the city terminal (in finnish):

http://kuvakotka.blogspot.com/2007/09/kantasatama.html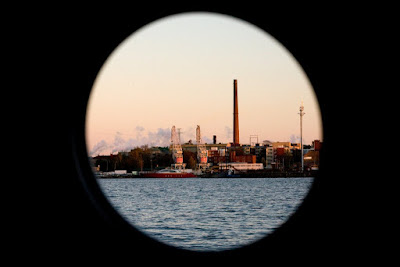 Kotkan kantasatama "laivaikkunasta" nähtynä. No, ei ehkä ihan laivaikkunasta, mutta Pakkelipokan keulaikkunasta kylläkin ;-)
Kantasatamasta rakennetaan kovalla touhulla kaupallista kulttuurisatamaa. Satamaan jää Viroon suuntautuva henkilöliikenne (eräänlaista kulttuuria sekin) muiden kulttuurielämysten kera. Keskeisenä osana kulttuurisatamaan kuuluu merimuseokeskus Vellamo (Suomen merimuseo ja Kymenlaakson maakuntamuseo). Kulttuurisatamaan kuuluvat kiinteästi myös jo nyt olemassa olevat museoalukset, museonosturit ja Puuvenekeskus. Alueen suunnitelmiin sisältyy myös muita toimintoja.