Karhula was former township, which was incorporated into Kotka 1976. Highway no 7 passes through Karhula and it was build in the beginning of 70´s. South - there´s market place, busstation and Karhula industrial area. To north is public swimming pool, track and field sports ground (called Keskuskenttä) and library.

In year 2003 canyon was repaired and landscaped.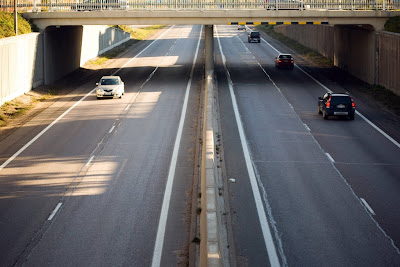 Karhula on Kotkan kaupunginosa ja entinen kauppala (vuosina 1951–1976).

Karhulan kaupunginosa käsittää nykyään vain pienen alueen entisestä kauppalasta. Entisistä kauppalanosista siihen kuuluvat Karhulanniemi ja pääosin Helilä, joka oli Karhulan kauppalan keskusta. Valtatie 7 kulkee moottoritienä kanjonissa Karhulan läpi. Moottoritien eteläpuolella sijaitsevat muun muassa tori, linja-autoasema ja Karhulanniemen teollisuusalue. Pohjoispuolella sijaitsevat uimahalli, Keskuskenttä (yleisurheilukenttä) ja kirjasto.

Kanjoni ja Karhulan alittava moottoritie rakennettiin 70- luvun alussa. 2003 kanjonia korjattiin ja maisemoitiin.

Via Wikipedia.

Niin kauan, kuin muistan, on kanjonin kattamista puhuttu. Aihe nostaa päättään aina aika ajoin. Melkoinen suunnanveto kanjonin kattamisen hautaamiseksi tehtiin 80- ja 90-luvuilla, kun Jumalniemen ostosaluetta alettiin rakentaa ja loppuaikoina laajentaa. Kahta ostosparatiisia ei Kotkan kokoiseen kaupunkiin alle viiden kilometrin säteelle sovi.